Food Pairings and Mixed Drinks
Here are some food pairing ideas for our mead that we are sure you will enjoy. We are sure you will agree that each recipe matches perfectly. If you have a food pairing idea let us know and we could put you on our web site. Check back often as we will be adding more.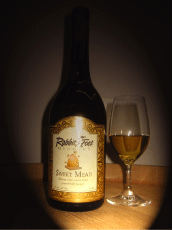 Our Sweet Mead match perfectly with with some cheeses having a strong taste (blue cheeses, aged cheeses). It is ideal with desserts based on fruit (primarily apricot, peach, quince, melon, mango), cheese cakes or sweets prepared with nuts (walnuts, hazelnuts, almonds).
The dry mead matches only itself. It is strong and sherry like with an aromatic nose of spice and oak.
Our Cyser is suitable to serve anywhere you might serve beer or other traditional hard ciders. Either the still and sweeter cyser or the crisp and dry sparkling cyser are great choices for any occasion.
Here are some other ideas
Mixed Drinks
Spiced Apple Martini
1 1/2 oz Skyy Cinnamon Clove Infused Vodka
1/4 oz apple cyser or cider
ice
splash apple brandy
Rinse chilled martini glass with apple brandy and pour out. In shaker combine vodka, cider and ice. Strain into glass and garnish with apple slice.
Christmas Mead as served at 'The Great Dickens Christmas Fair"
1 bottle Sweet Mead
1 tbsp brown sugar
1 slice of a sweet orange
8 whole cloves
4 sticks of cinnamon
1 whole nutmeg split in four
Add all the ingredients to a saucepan and bring to a low simmering heat. Allow to simmer for 30 minutes. Serve garnished with a couple of the cloves, orange slice and cinnamon stick. Makes an exceptional replacement for eggnog, gathered with friends around a warm fire.
Other Recipes:
Poached Pear in Honey Wine – serves 4
4 Bartlett Pears, ripe
1 tbs Brown Sugar
1 tbs White sugar
Powdered sugar
1/8 tsp each cinnamon, nutmeg, allspice
2 cups Pear Mead
1 cup heavy cream
Zest from 1 lemon
Prepare the ripe pears by peeling. Leave the stem if possible. Cut the bottom of each pear to create a flat surface which will hold the pear upright.
Add the Pear Mead to a sauce pan that is deep enough to hold the upright pear with the lid on. Over a medium heat dissolve the brown sugar. Add the spices and stir. When the sugar starts to bubble slowly add the Pear Mead. Bring to a slow boil, reduce the heat to a simmer and place the pears in the saucepan and cover. Allow to simmer for 10-15 minutes or until the pears are tender. Remove the pears and continue to simmer until the liquid in the pan has been reduced so that it coats the back of a spoon.
Whip the cream with the white sugar until it stands firmly.
Spoon the sauce onto the plate coating the surface well. Plate the pears so they stand upright, spoon more sauce over each pear and add a spoon full of the whipped cream.. Garnish with a sprig of mint and a sprinkle of the lemon zest.
Chocolate Cake with Pear Mead
Use your favorite chocolate cake recipe and prior to icing drizzle our Pear Mead on each layer. This will add a delicious flavor of honey and pear to your cake an will help to moisten the cake adding to the delicate texture that everyone will enjoy.
Sweet Mead Roasted Chicken
1 – bottle of Sweet Mead
1/2 cup brown sugar
1/2 tsp ginger, clove, allspice
1 large chicken (3-4lbs)
large bowl (large enough for the chicken)
Place the Pear Mead, spices sugar and …into a large bowl. Stir until all of the ingredients are dissolved. Place the chicken into the marinade and allow to marinate over night in the refrigerator or for at least 2 hours. Longer is better.
When the chicken has been marinated place it into a roasting pan or on a spit and cook until it is cooked following the normal directions for the weight of the bird. Typically 20 -25 minutes per lb at 375F
Allow the chicken to rest for 20 minutes. You can then carve the chicken into pieces, and serve on a bed of rice.